Team Building
At KSL Training, our unique corporate team building workshops are tailored to your needs. Each workshop offers unique insights into your team's strengths in a fun and rewarding environment. We specialise in the use of team psychometrics, such as MBTI and Belbin.
Also, as an SHL partner, we offer the SHL OPQ32 Personality Questionnaire to highlight leadership, reporting styles and team strengths.
These tools are then combined with a fun indoor or outdoor team exercise or activity. This approach identifies the specific strengths and development needs of individual team members, such as their leadership and interpersonal skills. As a result, we ensure long term business improvements can be sustained.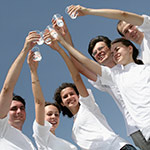 We offer team building events utilising the online MBTI Myers Briggs Type Indicator Questionnaire, to provide insights into the way in which each person communicates and makes decisions.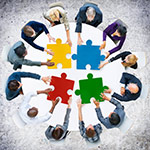 Using the online Belbin Team Roles Questionnaire, we facilitate a range of team exercises. These activities enable the team to become more aware of their strengths and weaknesses.